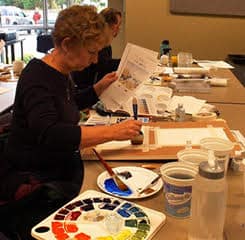 Colour is an elusive subject, as many who have taught it will testify. This is due to a variety of factors, not least the retention of unworkable ideas from the past. Yet it is a vital subject for anyone involved in fine art, craft, or design.
Students in these creative fields need an understanding of colour harmony and contrast, colour mixing and the basics of colour theory if all round progress is to be made.
Yet what commonly happens is that they end up confused and frustrated.
As one student put it: 'When I asked my teacher how to mix a certain brown she suggested that I mix everything up on my palette and hold my breath" I can understand the frustration of the student but can also understand the approach of the teacher as since the early part of the last century colour theorists have usually concentrated on impressing each other instead of helping the actual 'end user'.
Many books on the subject are based on 'pet ideas' which simply add to the confusion. Yet it is an unnecessary confusion as all aspects of colour understanding and use can now be taught with ease.
This is where the School of Colour can help
Over many years we have re-examined every aspect of colour understanding and use. We found that the accepted 'Three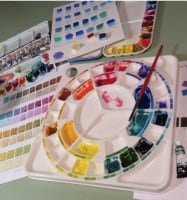 Primary System' was heavily flawed, (in fact it was unworkable) – that artists were using paints which faded or otherwise deteriorated, that our ideas on colour harmony and contrast were at odds with nature – and so it went on.
Our findings have changed the way that countless people now use colour in their leisure time and at work. From the beginner to the conserver of priceless paintings, from the interior designer to the quilter, from the printer to the silk painter, practices are changing; and changing fast. Colour has, for the very first time, been brought under total control. That control and understanding should now be passed to others – and there is a great demand for it.
This is where you can help
We have not only researched the subject in great depth but have also concentrated on finding ways to explain each aspect with ease. Our approach is to help bring art and science together once again.The first occurrence led to the Renaissance, the second to the Impressionist era. What amazing work could emerge from a third combination of the two?
There are ways in which we can work together to bring understanding to all who use colour in their creative work; from the artist to the designer, from the craft worker to the interior decorator.
Our Affiliate program.
Many teachers use our products in their work, such as the book 'Blue and Yellow Don't Make Green', our paints, workbooks and our mixing palettes. A teacher joining our Affiliate program will be able to offer a discount on orders placed by their students as well as earn store credit on all such orders. As our arrangement will be informal they do not give courses in the name of the School of Colour but we  do list their contact details on our websites. The Affiliate Program will be launched later this year, so check our website for forthcoming details.
Registered Teachers give workshops and courses in the name of the School of Colour.
We are about to commence work on a series of on-line courses. These will be both extensive and thorough. There will be full explanatory text and linked information and each section will be supported by comprehensive demonstration videos and animation. A range of subjects will be covered, from colour mixing to colour harmony and contrast and from glazing to depicting the colour of shadows.
The courses will be available to purchase by artists on our websites but will be free of cost to our Registered Teachers. In order for the information to be consistent the demonstration videos MUST be shown when a workshop or course is given in the name of the School of Colour. For example, 'Practical Colour mixing – a School of Colour Workshop'.
Once a particular video has been shown, for example 'mixing a range of greens', the teacher might set exercises, answer questions and supervise the exercises. The intention is to work with the teacher by providing video and animation to fully demonstrate each section.
A list of Registered teachers will be published on our web site. Full contact details and information (dates, prices etc.) of forthcoming courses can be posted for each teacher when seeking students
Registered teachers will be kept updated on the latest developments and teaching aids via a regular teachers newsletter.
The name of the School of Colour can be used in advertisements, leaflets and posters etc. Talks and demonstrations can be given to local art clubs and art groups in the name of the School of Colour.
The Affiliate program will be extended to all Registered Teachers. This will allow their students to purchase any SoC products that they might wish to have, at a discount and at the same time earn the teacher store credit.
To become a Registered Teacher
In order to keep our teaching standards high we must carefully check those who wish to register with us. Each applicant is required to submit a Bio/CV to include recent and current teaching experience, and examples of their artwork. Prospective Registered Teachers will then be asked to take a multiple choice test to demonstrate an understanding of our approach to colour. On the successful completion of the test a certificate will be issued confirming that the recipient is a Registered Teacher with the School of Colour.
Each Registered Teacher will be offered a listing on our web site absolutely free. Potential students will then be able to contact the teacher directly to sign up for classes or workshops.
If you have questions about becoming a School of Colour Registered Teacher or would like to begin the application process, please contact our Principal Teacher, Bob Way by clicking this link.