Description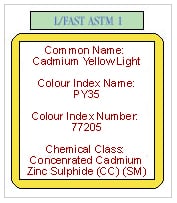 A clean, strong, bright yellow. Noted for its opacity, it has very good covering power. However it is strong enough to allow for reasonably clear washes when well diluted.

Unaffected by light under normal circumstances, it is however, sensitive to moisture in strong light. An outstanding pigment.

Extremely lightfast, it rated 1 during ASTM testing in all of our media. A fine yellow with a useful range of values.

Justifiably considered by many, including ourselves, to be the most important light yellow of the palette. Non-metallic preservatives.