Description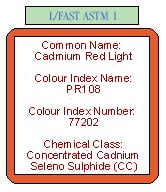 Absolutely lightfast. Rated ASTM 1 as a watercolor, oil paint, acrylic or gouache. Possesses an excellent range of qualities. An outstanding pigment well worth any additional cost.
Pigment Red 108 is a first rate colorant with very desirable qualities. Varying in hue from a bright orange-red to a deeper violet-red. Opaque, with good hiding power, it is nevertheless strong enough to give reasonably transparent washes.

It will not bleed into other colours and resists light, heat, Hydrogen Sulphide and alkalis. Non- metallic preservatives.